The journey to Adam's Leap Wines
Adam's Leap Wines is the realisation of a long-time dream. My journey, however, was not necessarily a direct or predictable route. It started in America as an in-house lawyer for a large global software company, followed on with a migration to Australia and a continuing career in the software industry, a return to study in medical school and then to clinical practice as a doctor. After several years, I returned to the software industry, which eventually lead me to roles as a board director.
But throughout my entire journey there was always wine! It began with a detour on a motorcycle ride in South Carolina, then explorations of vineyards in France, Italy, Spain, California and Australia, and eventually a dream of bringing Adam's Leap Wines
to life.
Through Adam's Leap Wines I am able to make great wines and provide people with great experiences, which is the essence of the winery.  I hope that you will share this dream with me by enjoying some of our wines with friends and family or having a great experience at our cellar door when we open in late 2018/
early 2019.
If you want to read more about my journey and the Adam's Leap Wines dream, please have a read of my blog where I wax philosophical on the path to where I am today.
Great wines are born
in the vineyard
The Adam's Leap Vineyard is a small boutique vineyard located in Pokolbin in the heart of the Hunter Valley wine region of NSW Australia. The soil is red loam over a clay and limestone base, which is ideal for producing high quality fruit. Our Chardonnay, Shiraz and Viognier vines are low-yielding, and our grapes are hand-picked to help ensure the highest quality fruit.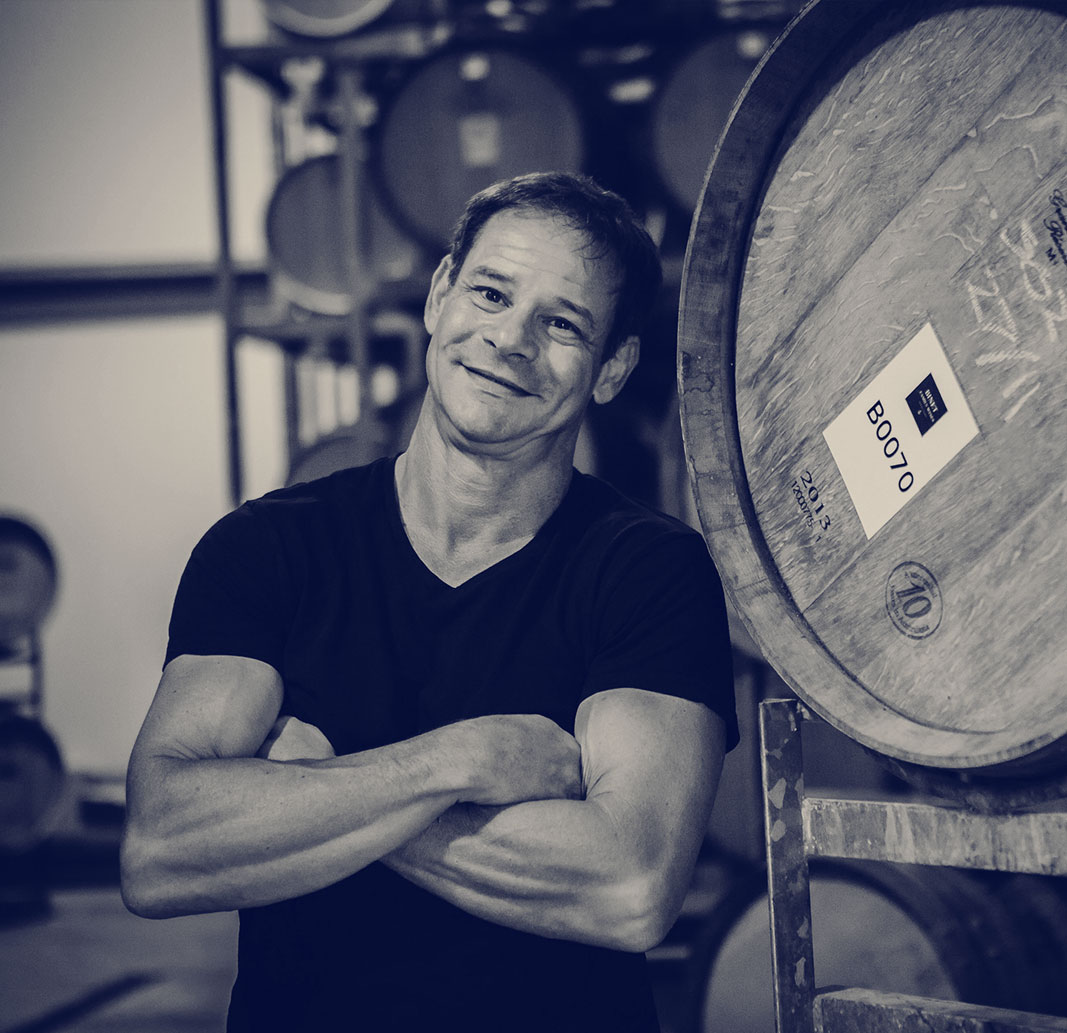 adam kossak,
owner/founder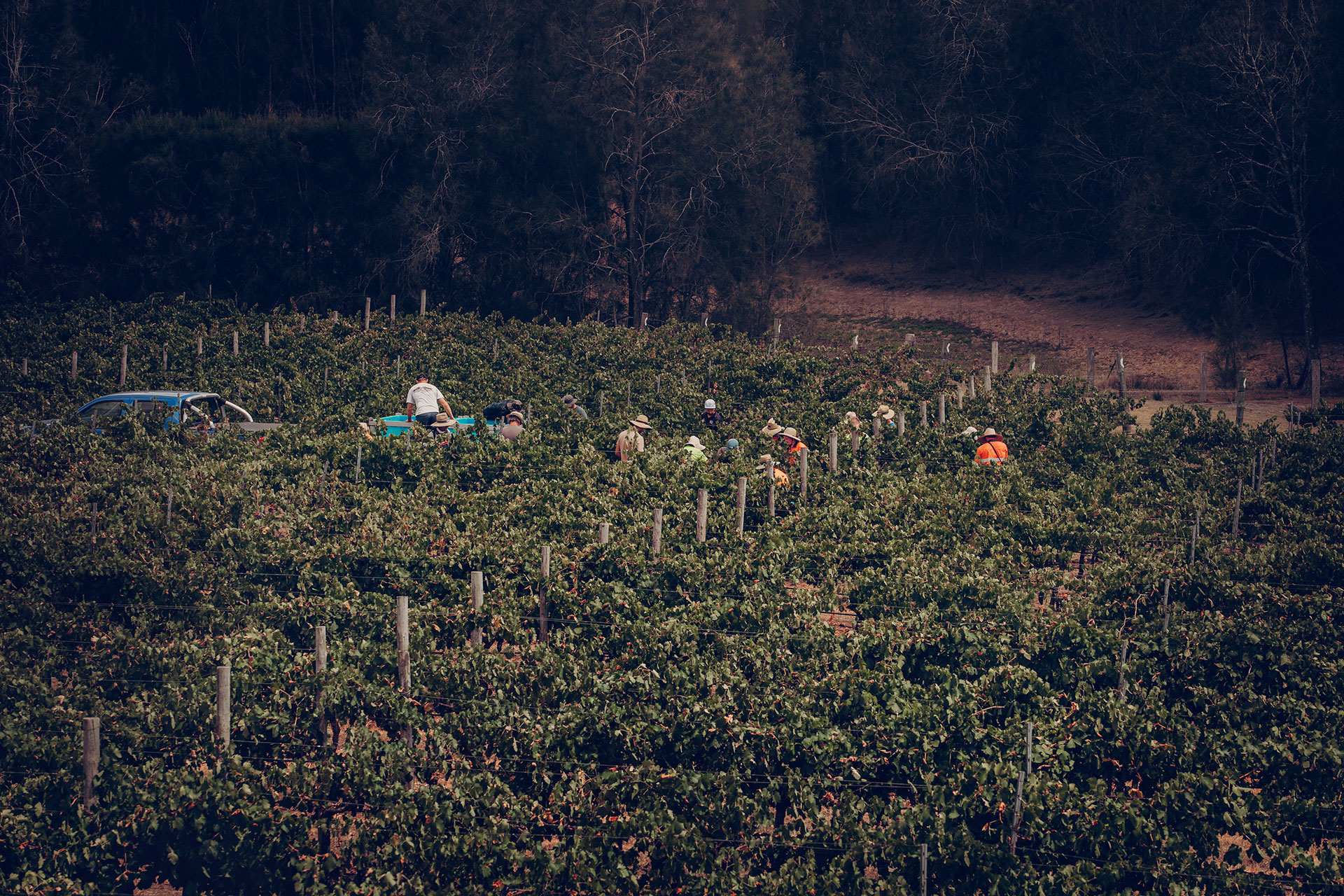 harvest time at
adam's leap wines
about


Adam's Leap vineyard
Great fruit makes great wine.
The Adam's Leap Vineyard is a boutique 6 acre vineyard located on Hermitage Road in Pokolbin, which is in the heart of the Hunter Valley wine region of NSW, Australia. The Adam's Leap vines are over 20 years old and consist of approximately 2 acres of Chardonnay, 3.5 acres of Shiraz and 0.5 acres of Viognier. The soil is red loam over a clay and limestone base, making it ideal for producing high quality fruit.
The Adam's Leap Vineyard is painstakingly maintained through each season, and the grapes on its low-yeliding vines are hand-picked to ensure the vines can produce the best fruit possible. In all aspects of vineyard management a balance, is sought between giving the vines enough of what they need in terms of water and nutrients, and forcing the vines to engage in a 'controlled struggle' to seek out what they need. This struggle helps make the vine stronger, but pushed too far the vine can start to shut down. Thus, the practices employed in the management of the Adam's Leap Vineyard strive to optimise this balance. So far so good!
Adam's Leap Wines is built on two principles – great wines and great experiences.
Everything I do is designed to produce great wines and to provide great experiences. Great wines start with great grapes and great grapes come from great vines tended with care and challenged to grow. As a boutique producer, quality is paramount. Focus is placed on getting the best grapes from each vine, not the most grapes. Fruit is harvested by hand and sorted for quality control. In the winery an instinctive mix of art and science is used to produce creative, interesting and enjoyable wines. I strive to highlight the unique characteristics of the Hunter Valley and the Adam's Leap Vineyard in every bottle of wine produced. Proven wine-making techniques are used for consistency, but with a creative edge to craft truly great and unique wines.
Harvest decisions are made on early morning walks in the vineyard, where grapes are sampled for sugar, acid and most importantly taste. Just the right amount of oak barrelling for just the right amount of time to let the fruit characters shine through. Every experience you have with Adam's Leap Wines, whether by enjoying our wines with friends and family, reading our labels, visiting our website, seeing us at a wine festival, interacting with us on social media or visiting our cellar door (when we open in late 2018/early 2019) is designed to provide you with a great experience.
I look forward to seeing you on the Adam's Leap Wines journey.
about


Ghost
rider's
lodge
Luxury in the heart of Wine Country.
The Lodge is a luxurious house, conveniently located in the Pokolbin vineyards district (in the heart of the Hunter Valley Wine Country), on a lovely 12-acre estate with its own boutique vineyard and olive grove. It accommodates up to 10 guests in style and comfort, with five beautifully appointed bedrooms and four bathrooms.

The home of
great

wines and

great

experiences
Sign up to the Adam's Leap e-news to receive updates, recipes and special offers. You can unsubsribe at any time, and we will always protect the information you provide us with.